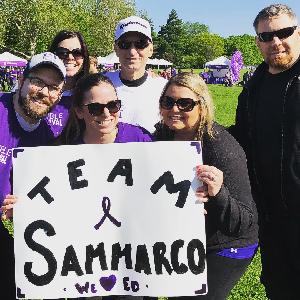 This fundraiser is to honor the life of Ed Sammarco. Ed courageously battled pancreatic cancer for 15 months before being called to heaven. His family wishes to continue to support and fight for the cause. There is a clear need for more research to help with early detection and new, more effective treatment options to fight this terrible disease.
Ed Sammarco was an outstanding husband, father, "Papa", brother, son, and friend to many. He touched many lives with his fun and spunky personality, steadfast loyalty and generous spirit. He was a family man--he loved his kids and grandkids with all his heart and made sure they knew it. He was a terrific husband to his beautiful wife, Nancy. Nancy and his kids will miss him dearly.
Ed fought this vicious disease with everything he had. The first statement he made to his doctor upon diagnosis was, "I want you bulldoze me with the strongest stuff you've got." He kept that mentality throughout, even while enduring the most brutal of treatments. He battled until the very end, continuing to make his family and everyone around him proud.


We love you so much, Ed, and will miss you and think of you every single day.
Thank you for your donation.
View More
Printable donation form - print and mail.