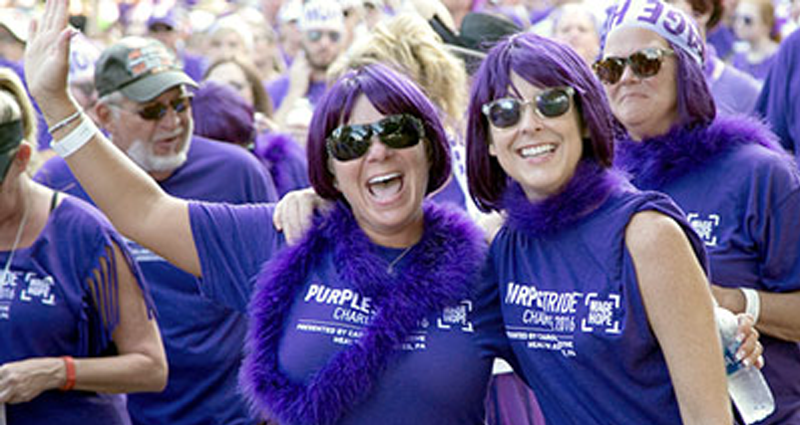 WAGE HOPE AT PURPLESTRIDE.
THE WALK TO END PANCREATIC CANCER.
Raised:
$549,934.07
Goal:
$700,000.00

PurpleStride New York City 2018
PurpleStride New York City 2018 was a powerful and inspiring day. Together, we raised over $550,000. The event may be over, but we are still accepting donations for the cause. Raise $1,000 by July 31 to be part of our exclusive Grand Club! Thank you again for your support!
Race results can be found at the link here.
Photos from PurpleStride New York City 2018 can be found here.
PurpleStride walks are among the largest sources of funding for the Pancreatic Cancer Action Network. When you Wage Hope at PurpleStride, you join a vibrant community of survivors, impacted families, loved ones, researchers and advocates committed to rewriting the future of this deadly disease. Learn more.
Prospect Park
near Center Dr
Brooklyn, NY 11225
Leaderboard
Top Fundraisers
Top Teams
About PurpleStride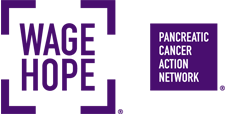 PurpleStride is one of the largest sources of funding for the Pancreatic Cancer Action Network.
Through fundraisers across the country we are able to make strides to advance research, continue to serve more and more patients, and be the leading provider of pancreatic cancer services and information in the world. Learn more.
Scientific Research
We push research forward through our nationally acclaimed grants program and clinical initiatives.
Patient Services
We connect patients with the latest treatment options and provide in-depth disease information.
Government Advocacy
We advocate for legislative support from Congress to increase federal research funding.
Community Engagement
We lead and activate communities across the globe for our cause.
Event Updates
Reserve Parking with SpotHero
We recommend reserving parking in advance with SpotHero, a parking reservation service that connects drivers to discounted, convenient parking!

Visit the official PurpleStride New York City Parking Page to find and reserve a convenient parking spot with rates up to 50% off drive-up. Book now and your space at the chosen facility is 100% guaranteed! Learn more.
Packet Pickup
Packet Pickup for PurpleStride New York City will take place at JackRabbit on Thursday, April 12 from 11:30 a.m. to 2:30 p.m. and 4 p.m. to 7 p.m. Visit the Packet Pickup section on the Event Details page for the full address, link to map, plus more information. Learn more.
Special Guests
We are excited to announce Erin Willett & Ron Claiborne will be attending PurpleStride New York City this year!

Singer Erin Willett, a semi-finalist on "The Voice," continues to give back as an Influencer of Hope for The Pancreatic Cancer Action Network; an organization fighting the disease that took her fathers life in 2011. Along with songwriters Liz Russo and Tova Litvin, she helped co-write and performed the soon to be released Anthem of Hope for PanCan.
Ron Claiborne returns as a special guest for the event. He is the news anchor for ABC News' weekend edition of "Good Morning America." Claiborne joined ABC News in 1986. In addition to his news anchor duties, he is a general assignment correspondent based in New York, reporting for "World News with David Muir," "Good Morning America" and "Nightline."

To read their full bios, you can visit the Special Guest section on the Event Details page. Click here.
Interviews
PurpleStride New York City 2018 and the Pancreatic Cancer Action Network were featured in several fabulous interviews. View the interviews via the links below for WFAN and FOX 5 New York.

FOX 5 New York's "Good Day Street Talk" (segment starts around 17:35) — View here.
WFAN Sports Radio - Bob Salter PSA Show — Listen here.
Survivor Speaker
We are especially pleased to have Stewart Lande as our Survivor speaker at PurpleStride NYC. Stewart is going to be an eight-year pancreatic cancer survivor this year and will share his personal story during the event. A supporter of the Pancreatic Cancer Action Network since 2010, Stewart serves as a mentor to others facing the disease. His company with his wife Maureen, Maureen Data Systems, continues to be involved in PurpleStride NYC and is a Silver Sponsor this year.
I am blown away on how in such a short period of time, we were able to put together such a great team and raise an incredible amount of money for such an important cause!
Khushbu Kheti, PurpleStride New York City 2017 Fundraiser
#PurpleStride
<! This is the Javascript embed code for your Wyng campaign. For more help with the implementation of this code on your website, visit https://wyng.com/dashboard/help/#/path/908488721. >