News and updates for the WPCC community. View in browser.

April 2017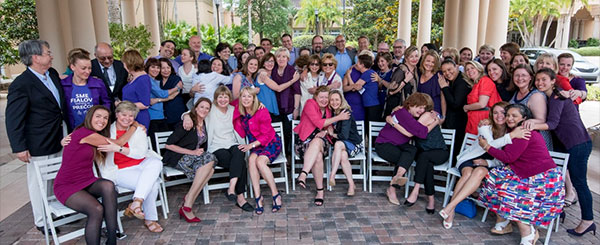 WPCC members get friendly at last year's Annual Meeting.
See Old Friends and Meet New Ones in Two Weeks!



We're super excited to see so many of you in Montreal in two weeks. There are 63 of us attending this year's Annual Meeting, representing 42 WPCC member organizations from 20 countries. South Africa, Japan, Australia, Hungary, Slovenia and many countries in between will be there. It will be a wonderful few days of discussion, brainstorming, collaboration and fellowship as we chart the course for future WPCC activities, WPCD and much more. We can't wait to spend quality time with you!

Your Personal Itinerary and Last-Minute Reminders



Keep an eye out for an email from WPCC Steering Committee Chair Julie Fleshman next Monday, April 24, which will include your personalized itinerary for the meeting, as well as last-minute reminders before you leave, such as:
Remember that the dress code is business casual
Please pack lots of purple
Please take a photo of yourself in your city right before you leave to travel to Montreal, and post it on your social media using #worldpcc #pancreaticcancer
More information to come to you via email next Monday, so please keep an eye out.

Thank You to Our Sponsors!



We are grateful for our sponsors for making this year's Annual Meeting possible: Celgene Corporation, Shire and Halozyme, Inc. Please thank them in person when you see them in Montreal!


---

Upcoming Event
WPCC Annual Meeting
May 2-5, 2017
Montreal, Canada
---
World Pancreatic Cancer Coalition Steering Committee Members

Julie Fleshman, Chair
Pancreatic Cancer Action Network (USA)

Barbara Kenner
Kenner Family Research Fund (USA)

Cindy Gavin
Let's Win/Lustgarten (USA)

Ali Stunt
Pancreatic Cancer Action (UK)

Alex Ford
Pancreatic Cancer UK (UK)

Stefanie Condon-Oldreive
Craig's Cause Pancreatic Cancer Society (Canada)

Michelle Capobianco
Pancreatic Cancer Canada (Canada)

Carl Hamilton
PALEMA (Sweden)

Catherine Holliday
Centre for Community-Driven Research (Australia)
World Pancreatic Cancer Day Committee Members

Ali Stunt, Chair
Pancreatic Cancer Action (UK)

Kate Elliott
Craig's Cause Pancreatic Cancer Society (Canada)

Charlotte Zamboni
Pancreatic Cancer UK (UK)

Jessica Abelsohn
#Purpleourworld (Australia)

Scott Saunders
The JCM Foundation (USA)

Dora Constantinides
PASYKAF (Cyprus)
---
SPONSORED BY
Have questions for the WPCC?
Email Project Lead Clara MacKay at clara@worldpancreaticcancercoalition.com.
Manage Your Subscription / Unsubscribe