News and updates for the WPCC community. View in browser.

March 2017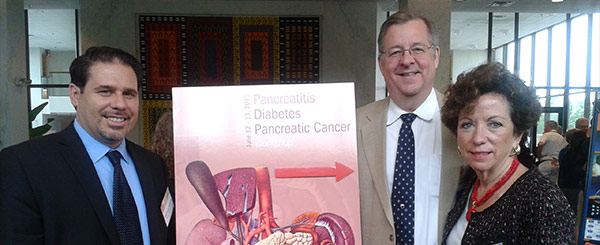 National Pancreas Foundation Executive Director Matt Alsante, left, with Patter Birsic,
co-founder (far right) and David Whitcomb, MD, PhD, of University of Pittsburgh Medical Center.
Member Highlight:
National Pancreas Foundation

The National Pancreas Foundation (NPF), based in the United States, is the only organization dedicated to all diseases of the pancreas, with a focus on pancreatic cancer, pediatric pancreatitis, acute pancreatitis and chronic pancreatitis. Its mission is to provide hope, with a focus on research, education, advocacy and support for pancreatic cancer and pancreatitis patients and families.

Read more
Meet Larry Krutchik, General Manager, Hill+Knowlton Strategies
| | |
| --- | --- |
| Hello, WPCC members! I'm Larry Krutchik with the new agency working with the WPCC, and I'm looking forward to meeting you in Montreal. It will be nice to exchange ideas about how to elevate WPCD 2017 to greater heights and share our vision for how to evolve from a moment to a year-round movement. I'm an attorney-turned-communications strategist, and I've spent over 20 years empowering health-related and non-profit clients to advocate for their cause. Hill+Knowlton Strategies brings strategic insight and experience with best-in-class global campaigns to the WPCC, along with the fact that we have offices in more than 75 percent of the countries represented in the WPCC. A couple of other things to know about me: When I'm not at work, I'm working on my golf game. And my day MUST begin with coffee! (If it ends with a good single malt, all the better.) See you in a few weeks – I can't wait to be inspired by you all! | |

We Need Your Videos! View Simple Tips First



As we approach our Annual Meeting, we'd like to collect short videos from you. We plan to use them on our WPCC website, on Facebook and Instagram, and to show some of them in Montreal. WPCC member Craig's Cause created a video for you to watch, and we made a short video for you to review with quick tips, as well as a tip sheet for additional suggestions. Put your short videos here by March 15. Thank you!

Watch Video with Tips


---

Upcoming Event
WPCC Annual Meeting
May 2-5, 2017
Montreal, Canada
---
World Pancreatic Cancer Coalition Steering Committee Members

Julie Fleshman, Chair
Pancreatic Cancer Action Network (USA)

Barbara Kenner
Kenner Family Research Fund (USA)

Cindy Gavin
Let's Win/Lustgarten (USA)

Ali Stunt
Pancreatic Cancer Action (UK)

Alex Ford
Pancreatic Cancer UK (UK)

Stefanie Condon-Oldreive
Craig's Cause Pancreatic Cancer Society (Canada)

Michelle Capobianco
Pancreatic Cancer Canada (Canada)

Carl Hamilton
PALEMA (Sweden)

Catherine Holliday
Centre for Community-Driven Research (Australia)

Angelia Dixon
Pancare Foundation (Australia)
World Pancreatic Cancer Day Committee Members

Ali Stunt, Chair
Pancreatic Cancer Action (UK)

Kate Elliott
Craig's Cause Pancreatic Cancer Society (Canada)

Charlotte Zamboni
Pancreatic Cancer UK (UK)

Jessica Abelsohn
#Purpleourworld (Australia)

Scott Saunders
The JCM Foundation (USA)

Dora Constantinides
PASYKAF (Cyprus)
---
SPONSORED BY
Have questions for the WPCC?
Email Project Lead Clara MacKay at clara@worldpancreaticcancercoalition.com.
Manage Your Subscription / Unsubscribe