News and updates for the WPCC community. View in browser.

February 2017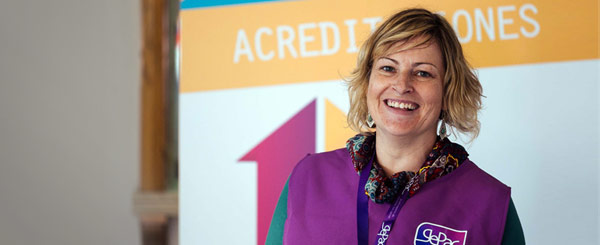 A volunteer helps out at a Pancreatic Cancer Spain event.
Member Highlight:
Pancreatic Cancer Spain

Pancreatic Cancer Spain was founded in 2014 as a chapter of GEPAC, the Spanish Cancer Patients Group. Its mission is to ensure that pancreatic cancer patients have timely and affordable access to the best treatment and care available, to improve early diagnosis and to improve the quality of life for all those affected by pancreatic cancer – patients, families, caregivers and relatives.

Read more

Deadline Approaching! Register for Montreal by Feb. 17!



We are looking forward to seeing you at the Annual Meeting in Montreal. Please register, view the agenda and other important information, and learn about booking travel! You must register AND book travel by Friday, Feb. 17.

Learn more

Are You in Our Facebook Group?



We launched a WPCC Facebook Group that allows us all to keep in touch and share information, expertise and resources. Have you joined the group? Please do so today, and network with your fellow WPCC members.

Join the group


---

Upcoming Event
WPCC Annual Meeting
May 2-5, 2017
Montreal, Canada
*Registration closes Friday, Feb. 17! Please register today!
---
World Pancreatic Cancer Coalition Steering Committee Members

Julie Fleshman, Chair
Pancreatic Cancer Action Network (USA)

Barbara Kenner
Kenner Family Research Fund (USA)

Cindy Gavin
Let's Win/Lustgarten (USA)

Ali Stunt
Pancreatic Cancer Action (UK)

Alex Ford
Pancreatic Cancer UK (UK)

Stefanie Condon-Oldreive
Craig's Cause Pancreatic Cancer Society (Canada)

Michelle Capobianco
Pancreatic Cancer Canada (Canada)

Carl Hamilton
PALEMA (Sweden)

Catherine Holliday
Centre for Community-Driven Research (Australia)

Angelia Dixon
Pancare Foundation (Australia)
World Pancreatic Cancer Day Committee Members

Ali Stunt, Chair
Pancreatic Cancer Action (UK)

Kate Elliott
Craig's Cause Pancreatic Cancer Society (Canada)

Charlotte Zamboni
Pancreatic Cancer UK (UK)

Jessica Abelsohn
#Purpleourworld (Australia)

Scott Saunders
The JCM Foundation (USA)

Dora Constantinides
PASYKAF (Cyprus)
Have questions for the WPCC?
Email Project Lead Clara MacKay at clara@worldpancreaticcancercoalition.com.