News and updates for the WPCC community. View in browser.

January 2017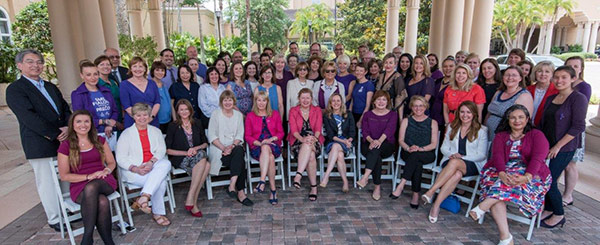 Happy New Year! Registration for our annual meeting in Montreal is now open!
WPCC Achievements 2016



We had an amazing 2016! We officially launched the World Pancreatic Cancer Coalition with 62 member organizations representing 24 countries, held our inaugural meeting in Orlando, created a WPCC Steering Committee and WPCD Committee that have been working hard on your behalf over the last six months, and executed an extremely successful WPCD 2016!

We are so grateful for the feedback we received from all of you last May at the Orlando meeting. Your feedback has shaped our work over the last six months and provided future direction.

Two key takeaway points from Orlando that you expressed about the WPCC were #1) to use the WPCC as a forum to share resources, best practices and learn more about what each of our organizations is doing for the pancreatic cancer community, and #2) to continue to build on WPCD through more hard-hitting, focused messaging that raises awareness and educates a specific audience (like healthcare professionals or the public) that could possibly be expanded beyond just WPCD to a year-round campaign for the Coalition.

To address #1 and provide more opportunities for WPCC members to learn about each other's work and to share expertise and experience, we reformatted the monthly WPCC newsletter to include member profiles (which will resume next month). We also created and distributed a WPCC member survey and launched a WPCC Facebook Group. We were delighted by your responses to the survey, which have already informed the program for our 2017 annual meeting in Montreal.

To address #2 and explore more hard-hitting campaign messages and a possible year-round awareness campaign, the WPCC has selected a new agency partner, and the Montreal meeting agenda is designed to allow for discussions about these opportunities.
New WPCC Agency Partner



We are delighted to have appointed a new WPCC agency partner, Hill+Knowlton, to help develop our WPCD 2017 campaign and explore the feasibility of a year-round awareness campaign for the Coalition. Hill+Knowlton has a wealth of experience working on global health and patient advocacy campaigns. They also have offices in 19 of the 24 WPCC countries.

Their appointment was the result of a competitive process overseen by the WPCC Steering Committee. Seven agencies were initially invited to submit proposals based on specific criteria determined by the WPCC Steering Committee. Final proposals were submitted by some of the agencies and a sub-committee of the Steering Committee representing the U.S., Canada, Australia and the UK reviewed and interviewed the final candidates to select Hill+Knowlton.

Hill+Knowlton will begin working with the WPCC in January. They will be working with the WPCD Committee on WPCD 2017 to bring campaign concepts to all of you at the Montreal meeting, and they will be working with the WPCC Steering Committee to do discovery work leading up to the Montreal meeting so that they can get feedback from you about a possible future year-round campaign for the Coalition.

We are looking forward to seeing you at the 2017 WPCC Annual Meeting in Montreal. Please register, view the agenda and other meeting information, and learn how to book your travel!


---
World Pancreatic Cancer Coalition Steering Committee Members

Julie Fleshman, Chair
Pancreatic Cancer Action Network (USA)

Barbara Kenner
Kenner Family Research Fund (USA)

Cindy Gavin
Let's Win/Lustgarten (USA)

Ali Stunt
Pancreatic Cancer Action (UK)

Alex Ford
Pancreatic Cancer UK (UK)

Stefanie Condon-Oldreive
Craig's Cause Pancreatic Cancer Society (Canada)

Michelle Capobianco
Pancreatic Cancer Canada (Canada)

Carl Hamilton
PALEMA (Sweden)

Catherine Holliday
Centre for Community-Driven Research (Australia)

Angelia Dixon
Pancare Foundation (Australia)
World Pancreatic Cancer Day Committee Members

Ali Stunt, Chair
Pancreatic Cancer Action (UK)

Kate Elliott
Craig's Cause Pancreatic Cancer Society (Canada)

Charlotte Zamboni
Pancreatic Cancer UK (UK)

Jessica Abelsohn
#Purpleourworld (Australia)

Scott Saunders
The JCM Foundation (USA)

Kalliopi Christoforidi
European Cancer Patient Coalition (EU)

Dora Constantinides
PASYKAF (Cyprus)
Have questions for the WPCC?
Email Project Lead Clara MacKay at clara@worldpancreaticcancercoalition.com.
Manage Your Subscription / Unsubscribe