News and updates for the WPCC community. View in browser.

December 2016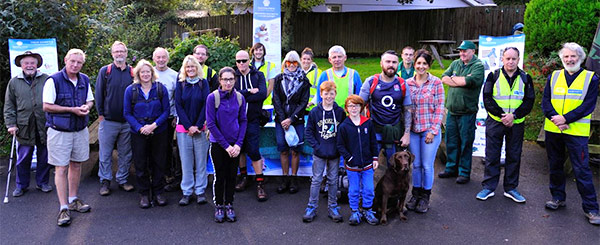 Staff and supporters of the Operation Henry Trust, based in England.
Member Highlight:
The Operation Henry Trust

The Operation Henry Trust was founded in 2001 in England by David Snelling, who wanted to do something to help pancreatic cancer patients after his father was diagnosed. Today, the Operation Henry Trust focuses on alleviating some of the burden placed on patients and their families after diagnosis, including paying for transportation to and from hospital appointments; paying for help with tasks that the beneficiaries are no longer able to do themselves; and much more.

Read more
You Made World Pancreatic Cancer Day Incredible!



World Pancreatic Cancer Day was outstanding this year. Thank you for your tremendous efforts! Here are highlights of our successes:
Our social media content reached almost 3.5 million people on Nov. 17 alone.
Combined earned media efforts resulted in impressions of over 237 million, including mentions from Headline News, BBC, CTV, Ebony Magazine, CNN and The View. This was a 20 percent increase over WPCD 2015!
350,000 people engaged (liked, commented, shared, retweeted) with our posts/tweets on social media from 49 countries – a 65 percent increase over last year.
Our hashtags were used more than 25,000 times – a 50 percent increase over last year. We even trended on Twitter!
Celebrity influencers including George Lopez, Katie Couric, Mindy Kaling, Georgia Love, Viola Davis, Suggs McPherson, Robin Roberts, Rodney McLeod, Marco Rubio, and Michael Ealy helped spread the message on Twitter.
The WPCD video was played in Times Square in New York City every hour throughout the day.
Terrific work, everyone. It was certainly a momentous third annual WPCD!
New WPCC Facebook Group



We are delighted to launch our new WPCC Facebook group! This is a closed group where WPCC members can share information, expertise and resources. Let's start by sharing all the great things we did for WPCD 2016!

Join today!
Season's Greetings!



Wishing you and your loved ones a joyful holiday season and a Happy New Year. Thank you for all your hard work over the past year!





Upcoming Events



Save the Date for Annual Meeting!
Online registration opens January 9! Stay tuned for more information.

May 2-5, 2017
WPCC Annual Meeting | Montreal, Canada


---
World Pancreatic Cancer Coalition Steering Committee Members

Julie Fleshman, Chair
Pancreatic Cancer Action Network (USA)

Barbara Kenner
Kenner Family Research Fund (USA)

Cindy Gavin
Let's Win/Lustgarten (USA)

Ali Stunt
Pancreatic Cancer Action (UK)

Alex Ford
Pancreatic Cancer UK (UK)

Stefanie Condon-Oldreive
Craig's Cause Pancreatic Cancer Society (Canada)

Michelle Capobianco
Pancreatic Cancer Canada (Canada)

Carl Hamilton
PALEMA (Sweden)

Catherine Holliday
Centre for Community-Driven Research (Australia)

Angelia Dixon
Pancare Foundation (Australia)


World Pancreatic Cancer Day Committee Members

Ali Stunt, Chair
Pancreatic Cancer Action (UK)

Kate Elliott
Craig's Cause Pancreatic Cancer Society (Canada)

Charlotte Zamboni
Pancreatic Cancer UK (UK)

Jessica Abelsohn
#Purpleourworld (Australia)

Scott Saunders
The JCM Foundation (USA)

Kalliopi Christoforidi
European Cancer Patient Coalition (EU)

Dora Constantinides
PASYKAF (Cyprus)
---
SPONSORED BY
Have questions for the WPCC?
Email Project Lead Clara MacKay at clara@worldpancreaticcancercoalition.com.
Manage Your Subscription / Unsubscribe