News and updates for the WPCC community. View in browser.

October 2016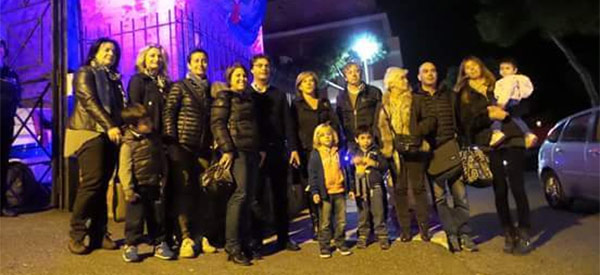 Associazione Nastro Viola supporters gather for World Pancreatic Cancer Day 2015.
Member Highlight:
Associazione Nastro Viola

Associazione Nastro Viola ("Purple Ribbon" Charity) was founded in February 2015 by five people who lost family members to pancreatic cancer. None of the founding members had ever experienced a disease so devastating (the patients survived from one to six months after diagnosis) and decided something had to be done to spread awareness.

Read more

New WPCD Materials You Can Use



Here are new assets you can find on the WPCD website!
Did you see the new "In It Together" page featuring your stories? Take a look and please continue to submit stories to clara@worldpancreaticcancercoalition.com.
Press releases in various languages (we will let you know when others are ready) are available for you to tailor to your needs:
New buttons for the Thunderclap and Facebook events – be sure to sign up if you haven't already.
Pancreatic cancer global statistics with data sources.

Four Reminders!
If you haven't completed the WPCC member survey, please take a few minutes to do so now!
Remember to share WPCD messaging on your social media pages to generate excitement. Invite your followers to join the Thunderclap. We have a goal of 5,000 and still quite a way to go!
Did you miss the training webinars in September, or would you like a refresher? Watch them here:

Earned Media Webinar – key media messages, tools, timing and more to promote WPCD in your regional media outlets
Social Media Webinar – goals for the digital campaign and the tools and resources available to support you

Review the webinar follow-up email sent by Ali Stunt with the Save the Date email, Pitch Letter, Press Advisory and Field Coverage Tracker Template.
---





Upcoming Events



World Pancreatic Cancer Day
Nov. 17, 2016

Annual Meeting
May 2-5, 2017
WPCC Annual Meeting | Montreal, Canada



---
World Pancreatic Cancer Coalition Steering Committee Members

Julie Fleshman, Chair
Pancreatic Cancer Action Network (USA)

Barbara Kenner
Kenner Family Research Fund (USA)

Cindy Gavin
Let's Win/Lustgarten (USA)

Ali Stunt
Pancreatic Cancer Action (UK)

Alex Ford
Pancreatic Cancer UK (UK)

Stefanie Condon-Oldreive
Craig's Cause Pancreatic Cancer Society (Canada)

Michelle Capobianco
Pancreatic Cancer Canada (Canada)

Carl Hamilton
PALEMA (Sweden)

Catherine Holliday
Centre for Community-Driven Research (Australia)

Angelia Dixon
Pancare Foundation (Australia)


World Pancreatic Cancer Day Committee Members

Ali Stunt, Chair
Pancreatic Cancer Action (UK)

Kate Elliott
Craig's Cause Pancreatic Cancer Society (Canada)

Charlotte Zamboni
Pancreatic Cancer UK (UK)

Jessica Abelsohn
#Purpleourworld (Australia)

Scott Saunders
The JCM Foundation (USA)

Kalliopi Christoforidi
European Cancer Patient Coalition (EU)

Dora Constantinides
PASYKAF (Cyprus)
---
SPONSORED BY
Have questions for the WPCC?
Email Project Lead Clara MacKay at clara@worldpancreaticcancercoalition.com.