News and updates for the WPCC community. View in browser.

December 2017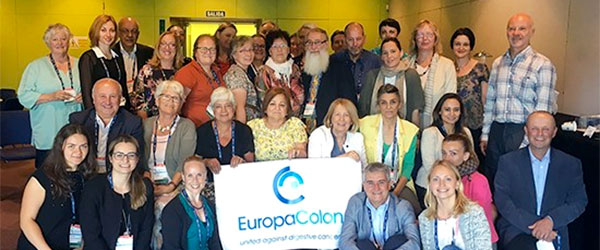 Happy Holidays!





MEMBER HIGHLIGHT: EUROPACOLON



EuropaColon was launched in 2004 to support colorectal cancer patients outside the United Kingdom. For the next 10 years, the organization grew across Europe and established a reputation for dedication to the interests and needs of these patients. In 2015, recognizing that patients with other digestive cancers were not getting information or support, EuropaColon expanded into these cancers, starting with pancreatic. EuropaColon has now established or partnered with 43 advocacy groups in 32 European countries.

LEARN MORE






CELEBRATING YOUR IMPACT ON WPCD!



Great job, everyone, on the most successful World Pancreatic Cancer Day yet. Thank you so much for your hard work and dedication! Here are a few highlights:
Nearly 245 stories were published on WPCD 2017 alone, reaching an audience of 150 million. Notable mentions came from Good Morning America, CBS News, Huffington Post and Global News.
Overall, more than 800 stories were published about WPCD, resulting in more than 745 million impressions, and included stories from the BBC and Daily Mail.
Social media engagement continued to increase with more than 396,000 people engaging and more than 37,000 users using the hashtags.
Content reached an audience of more than 332 million, with the Symptoms graphic reaching more than 667,000 people and the "At the Doctor" video being viewed more than 142,000 times on Facebook.
Even more buildings went purple this year, with more than 150 landmarks glowing purple, including the Sydney Opera House, Niagara Falls and Trafalgar Square.
Celebrities continued to show their support and included Mindy Kaling, Katie Couric and Robin Roberts. Lawmakers and newscasters around the world also wore purple in support and shared photos of themselves!
SAVE THE DATE! World Pancreatic Cancer Day 2018 is set for Nov. 15. Mark your calendars and get ready to paint the world purple again!




WPCD COMMITTEE POSITIONS AVAILABLE



Are you interested in becoming a member of the World Pancreatic Cancer Day Committee? We are recruiting two new members and are especially interested in broadening membership outside of the U.S., U.K., Australia and Canada, but all applications will be considered! Please see the WPCD Committee role description and application form. Send your completed application to info@worldpancreaticcancercoalition.com by Jan. 7, 2018. Appointments from February 2018. Please contact clara@worldpancreaticcancercoalition.com with questions.



FUNDRAISING WEBINAR RECAP



Did you miss the Nov. 28 WPCC fundraising-focused webinar led by Alex Ford of Pancreatic Cancer UK and Michelle Copobianco of Pancreatic Cancer Canada? It was full of helpful information and best practices regarding corporate partnerships. If you weren't able to join or would like to view it again, you can do so here.

Upcoming EventS
Please Register!


WPCD Wrap-Up Webinar
Thursday, Dec. 14 at 8 a.m. Pacific (U.S.) Time
Save the Date for Annual Meeting 2018!
May 8-10, 2018
Coral Gables, Florida (Miami area)
May 8 – Welcome Reception
May 9-10 – Meeting
Save the Date for World Pancreatic Cancer Day 2018
Nov. 15, 2018
Pancreatic Cancer Conferences in the U.S. and Beyond
Pancreatic Cancer Conferences in the U.K.
---
World Pancreatic Cancer Coalition Steering Committee Members

Julie Fleshman, Chair
Pancreatic Cancer Action Network (USA)

Barbara Kenner
Kenner Family Research Fund (USA)

Cindy Gavin
Let's Win/Lustgarten (USA)

Ali Stunt
Pancreatic Cancer Action (UK)

Stefanie Condon-Oldreive
Craig's Cause Pancreatic Cancer Society (Canada)

Michelle Capobianco
Pancreatic Cancer Canada (Canada)

Carl Hamilton
PALEMA (Sweden)

Catherine Holliday
Centre for Community-Driven Research (Australia)
World Pancreatic Cancer Day Committee Members

Ali Stunt, Chair
Pancreatic Cancer Action (UK)

Kate Elliott
Craig's Cause Pancreatic Cancer Society (Canada)

Charlotte Zamboni
Pancreatic Cancer UK (UK)

Jessica Abelsohn
#Purpleourworld (Australia)

Scott Saunders
The JCM Foundation (USA)

Dora Constantinides
PASYKAF (Cyprus)
---
THANK YOU TO OUR LEADING SPONSORS
Have questions for the WPCC?
Email Project Lead Clara MacKay at clara@worldpancreaticcancercoalition.com.
1500 Rosecrans Ave., Suite 200, Manhattan Beach, CA 90266 – (877) 272-6226
Manage Your Subscription / Unsubscribe