News and updates for the WPCC community. View in browser.

February 2020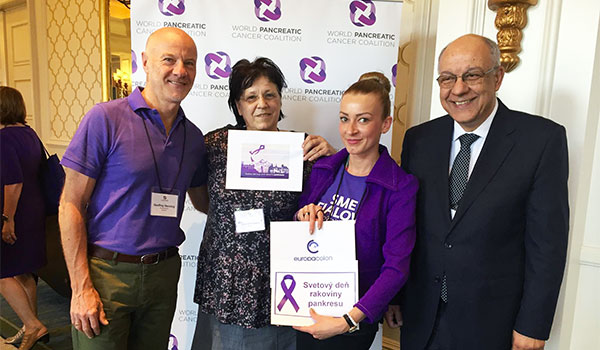 EuropaColon members at the World Pancreatic Cancer Coalition Annual Meeting
MEMBER HIGHLIGHT:
EUROPACOLON SLOVAKIA

EuropaColon Slovakia was founded in 2007 as a nonprofit organization for patients with colorectal carcinoma. In 2014, epidemiological data for cancer and years of experience with patients motivated the organization to expand its target, and EuropaColon Slovakia joined the European Pancreatic Cancer Multi-Stakeholders Platform. The organization also established a new alliance, "Say No To Pancreatic Cancer," in Slovakia. The mission is to spread awareness about the benefits of early detection and to lobby for new treatment options.

READ MORE


COMPLETE SURVEY ABOUT ANNUAL MEETING



Help us focus our discussions at this year's WPCC Annual Meeting by answering four questions in our short survey. Please limit your responses to one per member organization. Your feedback will help us design the Annual Meeting program, so it is important that we hear from you! Please complete the survey by March 6.

KEY MESSAGING TO USE



For consistency in your print and digital communications about clinical trials, diet and nutrition, patient support, high-risk individuals, and symptoms and risks, the WPCC has created evidence-based key messaging. Example: The World Pancreatic Cancer Coalition strongly recommends that everyone diagnosed with pancreatic cancer is given the opportunity to take part in a clinical trial. You can find all key messages on the WPCC website. Each January, the WPCC will review them and make updates as needed.

SHARE WPCD IMPACT STORIES



As we explore the impact of WPCD 2019, the WPCD Committee would like to gather feedback that may tell a story of someone who saw our campaign, went to the doctor and was subsequently diagnosed earlier than they might otherwise have been. Please email any anecdotes or stories (with photos if appropriate) to jisaacson@pancan.org. Thank you!

Upcoming Events
WPCC Annual Meeting
Sept. 22-24, 2020
Los Angeles
World Pancreatic Cancer Day 2020
Nov. 19, 2020
Pancreatic Cancer Conferences in the U.S. and Beyond
Pancreatic Cancer Conferences in the U.K.
---
Stay Connected
---
World Pancreatic Cancer Coalition Steering Committee Members

Julie Fleshman, Chair
Pancreatic Cancer Action Network (USA)

Barbara Kenner
Kenner Family Research Fund (USA)

Cindy Gavin
Let's Win/Lustgarten (USA)

Daniel Goulburn
#PurpleOurWorld (Australia)

Diana Jupp
Pancreatic Cancer UK (UK)

Kathi Apostolidis
European Cancer Patient Coalition (Belgium)

Stefanie Condon-Oldreive
Craig's Cause Pancreatic Cancer Society (Canada)

Tomás Kruber
Onkomajak (Czech Republic)

Jenny Isaacson
Project Lead (USA)
World Pancreatic Cancer Day Committee Members

Jessica Abelsohn, Chair
#PurpleOurWorld (Australia)

Federica Valsecchi
Nadia Valsecchi Foundation (Italy)

Kate Elliott
Craig's Cause Pancreatic Cancer Society (Canada)

Kerry McKean Kelly
Kelly's Heroes (USA)

Louis Baldachino
Pancreatic Cancer Awareness Gibraltar (Gibraltar)

Louise Ellis
Pancreatic Cancer UK (UK)

Lu Constable
Pancreatic Cancer Action (UK)


---
THANK YOU TO OUR SPONSORS
Have questions for the WPCC?
Email Project Lead Jenny Isaacson at jisaacson@pancan.org.