News and updates for the WPCC community. View in browser.

January 2020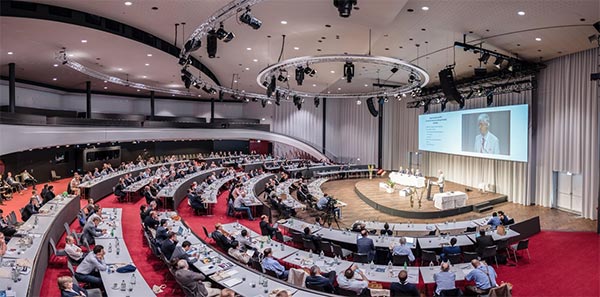 World Pancreas Forum 2017 in Bern, organized by the Swiss Pancreas Foundation
MEMBER HIGHLIGHT:
SWISS PANCREAS FOUNDATION

The Swiss Pancreas Foundation (SPF), based in Bern, Switzerland, provides help to those suffering from pancreatic diseases. Founded in 2007, among its goals are to inform the Swiss population of the growing problem of pancreatic disorders and pancreatic cancer, provide them information about specialists, increase research and organize events. At the heart of the SPF is the World Pancreas Forum – an international scientific meeting, that will take place in Bern, Switzerland, Feb. 5-7, 2020.

READ MORE


WPCC Year in Review – 2019



Interested in what the WPCC accomplished last year? Take a look – and be proud!

Members:
Eleven new members joined the Coalition: Belgium (1); Italy (1); Netherlands (1); New Zealand (1); Northern Ireland (1); Slovenia (1); Switzerland (1); United States (4). That brings our total number of members, as of December 31, 2019, to 91 organizations from 35 countries.
Annual Meeting:
49 organizations from 21 countries attended the 2019 Annual Meeting in Florida. The meeting received high approval ratings from you – 100% of members said the program helped them learn and exchange ideas.
World Pancreatic Cancer Day (WPCD):
The WPCD "Demand Better" campaign 2018 received top honors in the two categories in which it was entered – Global Communications and Event & Observances: Not-for-Profit – at the LA PRism Awards, a Los Angeles program that recognizes excellence in strategic PR campaigns.
This year's campaign generated more engagement, awareness and visibility than ever. Alex Trebek's public service announcement, as well as increased WPCC participation, compelling creative and a refreshed WPCD website contributed. There were over 3,400 media placements and 4.7 billion impressions, up 26% over last year – and that's just a start! See the Dec. 18, 2019 newsletter for a complete overview of all the great work!
Capacity Building:
We developed evidence-based key messaging to create consistency in the WPCC's communications about clinical trials, diet and nutrition, patient support, high-risk individuals, symptoms and risks.
Social Media:
The WPCC's closed Facebook Group grew from 57 to 124 members, indicating that more members are sharing resources and stories. Engaged users almost doubled, from 12,100 to 23,100, and increased significantly on the WPCD Facebook page too, from 168,000 to 239,000. The total reach of the WPCD Facebook page increased from 3.3 million in 2018 to 5.9 million in 2019. Overall, WPCC acquired 6,153 new followers across all platforms, which means our message is reaching significantly more people.
Sponsors:
We raised $515,000 ($85,000 more than in 2018) from 10 industry sponsors, including five new sponsors.
Thank you for all your hard work. It was an amazing year!

Upcoming Events
WPCC Annual Meeting
Sept. 22-24, 2020
Los Angeles
World Pancreatic Cancer Day 2020
Nov. 19, 2020
Pancreatic Cancer Conferences in the U.S. and Beyond
Pancreatic Cancer Conferences in the U.K.
---
Stay Connected
---
World Pancreatic Cancer Coalition Steering Committee Members

Julie Fleshman, Chair
Pancreatic Cancer Action Network (USA)

Barbara Kenner
Kenner Family Research Fund (USA)

Cindy Gavin
Let's Win/Lustgarten (USA)

Daniel Goulburn
#PurpleOurWorld (Australia)

Diana Jupp
Pancreatic Cancer UK (UK)

Kathi Apostolidis
European Cancer Patient Coalition (Belgium)

Stefanie Condon-Oldreive
Craig's Cause Pancreatic Cancer Society (Canada)

Tomás Kruber
Onkomajak (Czech Republic)

Jenny Isaacson
Project Lead (USA)
World Pancreatic Cancer Day Committee Members

Jessica Abelsohn, Chair
#PurpleOurWorld (Australia)

Federica Valsecchi
Nadia Valsecchi Foundation (Italy)

Kate Elliott
Craig's Cause Pancreatic Cancer Society (Canada)

Kerry McKean Kelly
Kelly's Heroes (USA)

Louis Baldachino
Pancreatic Cancer Awareness Gibraltar (Gibraltar)

Louise Ellis
Pancreatic Cancer UK (UK)

Lu Constable
Pancreatic Cancer Action (UK)


Have questions for the WPCC?
Email Project Lead Jenny Isaacson at jisaacson@pancan.org.
1500 Rosecrans Ave., Suite 200, Manhattan Beach, CA 90266 – (877) 272-6226
Manage Your Subscription / Unsubscribe