News and updates for the WPCC community. View in browser.

December 2019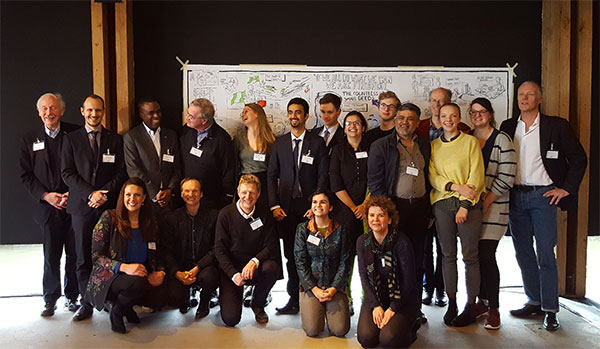 Members of the Inspire2Live team.
Happy Holidays, WPCC MEMBERS!





MEMBER HIGHLIGHT: INSPIRE2LIVE



Inspire2Live (I2L), located in the Netherlands, is an international movement founded in 2011 with one single goal: getting cancer under control. To achieve this, the organization strives to change and improve the way global cancer research is organized and executed. I2L is a platform consisting of approximately 30 patient advocates, bringing together patients, doctors, scientists, industry and government to work on the challenges to get cancer under control. I2L works for all cancers, but since pancreatic cancer is still one of the deadliest, it is of special interest.

READ MORE


YOU MADE WPCD 2019 A HUGE SUCCESS!



Congratulations, all! This year's World Pancreatic Cancer Day campaign was record-breaking, with more engagement, awareness and visibility than ever. Thanks to Alex Trebek's public service announcement, increased WPCC participation and compelling creative, the campaign achieved:
3,400+ media placements and 4.7 billion impressions, a 371 percent increase in impressions over 2018
3.3 million people reached on Facebook (up 26 percent over last year)
2.1 million total views of WPCD videos (up 76 percent)
2.1 million total engagements with WPCD content (up 56 percent)
1.7 million views of the animated "Silent Symptoms" video (up 321 percent over last year's "Check Engine" video)
1.2 million views of pancreatic cancer symptom GIFs (up 173 percent)
Tremendous spike in pancreatic cancer-related search terms online
254,000+ clicks to the WPCD website during the campaign; 41,000+ pageviews on WPCD (110 percent increase over 2018)
Nearly 300 landmarks lit up purple (150 in Italy alone!)
This anecdote perfectly illustrates the impact of this year's campaign: A Jeopardy! viewer wrote to the show to let them know that her brother-in-law had seen Alex Trebek's WPCD public service announcement, recognized that he was having some of the symptoms, went to the doctor, and as a result, his pancreatic cancer was diagnosed at stage 1.

Again, superb work – thank you to all who participated. We made tremendous strides in raising awareness, spreading hope and inspiring action.



Save the Date – World Pancreatic Cancer Day – Nov. 19, 2020

REMINDER! PLEASE COMPLETE WPCD 2019 SURVEY



Please give your feedback on this year's WPCD campaign. We are interested in learning how you participated, which assets you used, and what we might do next year to make it even easier and better for you. The survey will take less than five minutes to complete and will provide us with valuable information to continue to improve. The deadline is Friday, Dec. 20.

WELCOME, NEW MEMBERS!



As a result of the tremendous visibility of this year's WPCD campaign, we have three new WPCC members: Gut Cancer Foundation (New Zealand), Edgerton.Life (U.S.), and Laufteam Lila (Switzerland). Welcome!

THANK YOU TO OUR GENEROUS SPONSORS



Sending heartfelt gratitude to our gracious and generous sponsors: Celgene, AstraZeneca, Erytech, Novocure, Servier, TriSalus Life Sciences, Halozyme, Ipsen and TYME. We could not do what we do without your commitment and support.


---

Upcoming Events
WPCC Annual Meeting
Sept. 22-24, 2020
Los Angeles
World Pancreatic Cancer Day 2020
Nov. 19, 2020
Pancreatic Cancer Conferences in the U.S. and Beyond
Pancreatic Cancer Conferences in the U.K.
---
Stay Connected
---
World Pancreatic Cancer Coalition Steering Committee Members

Julie Fleshman, Chair
Pancreatic Cancer Action Network (USA)

Barbara Kenner
Kenner Family Research Fund (USA)

Cindy Gavin
Let's Win/Lustgarten (USA)

Daniel Goulburn
#PurpleOurWorld (Australia)

Diana Jupp
Pancreatic Cancer UK (UK)

Kathi Apostolidis
European Cancer Patient Coalition (Belgium)

Stefanie Condon-Oldreive
Craig's Cause Pancreatic Cancer Society (Canada)

Tomás Kruber
Onkomajak (Czech Republic)

Jenny Isaacson
Project Lead (USA)
World Pancreatic Cancer Day Committee Members

Jessica Abelsohn, Chair
#PurpleOurWorld (Australia)

Federica Valsecchi
Nadia Valsecchi Foundation (Italy)

Kate Elliott
Craig's Cause Pancreatic Cancer Society (Canada)

Kerry McKean Kelly
Kelly's Heroes (USA)

Louis Baldachino
Pancreatic Cancer Awareness Gibraltar (Gibraltar)

Louise Ellis
Pancreatic Cancer UK (UK)

Lu Constable
Pancreatic Cancer Action (UK)


---
Have questions for the WPCC?
Email Project Lead Jenny Isaacson at jisaacson@pancan.org.
1500 Rosecrans Ave., Suite 200, Manhattan Beach, CA 90266 – (877) 272-6226
Manage Your Subscription / Unsubscribe