News and updates for the WPCC community. View in browser.

November 2019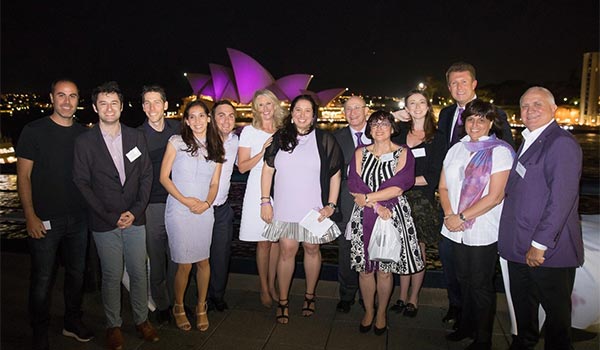 Some of the #PurpleOurWorld family with Ambassador Tracey Spicer and Sydney, Australia newsreader Peter Overton in front of the Sydney Opera House, which turned purple for World Pancreatic Cancer Day!
MEMBER HIGHLIGHT: #PURPLEOURWORLD



#PurpleOurWorld was founded in October 2014 in Australia, just weeks before the first World Pancreatic Cancer Day. It was founded in honor of wife, mother and sister Rochelle Goulburn, who passed away from pancreatic cancer in August 2014 after 16 months of treatment. When Goulburn was diagnosed, her family found there was little awareness of the disease, so they set out to change that.

READ MORE


WPCD: 2 WEEKS TO GO!



It's hard to believe World Pancreatic Cancer Day (WPCD) will be here in just two weeks! Take advantage of the time and get prepared. First, the October webinar about how to make your WPCD great has much useful information, and you can watch the video if you missed it. Also, here are five things you can do now to prepare for Nov. 21.

1. Promote and share the Alex Trebek Public Service Announcement (PSA) and the "Silent Symptoms" video, which is available in 14 languages
Reminder: Alex Trebek's PSA will also air during JEOPARDY! on Thursday, Nov. 21 (check local listings for showtimes and stations)
2. Engage with WPCD social media channels and content (like, share, RT, etc.)
Twitter/Instagram: @worldpancreatic
Facebook: @worldpancreaticcancerday
3. Promote and share the 2019 WPCD animated social graphics

4. Use the approved hashtags and tag WPCD:
#WPCD
#DemandBetter
#PancreaticCancer
#WorldPancreaticCancerDay
5. Send us your stories, photos, videos, and news: As a reminder, there is a minimum commitment for Coalition members to share a single post on WPCD. We recommend posting either the Alex Trebek PSA, "Silent Symptoms" video, or one of the four animated social graphics (yellowish eyes, unexplained weight loss, stomach pain, back pain.

REMINDER: WPCC KEY MESSAGES REVIEW DEADLINE



As part of strategic planning, the WPCC Steering Committee has created key messages for Coalition members' review. The key messages are evidence-based and are meant to create consistency in all our communications – from language on the WPCC website to social media, presentations and more. The Steering Committee welcomes feedback about these messages from all members – please email Jenny Isaacson (jisaacson@pancan.org) by Friday, Nov. 8. We will re-share these key messages after we have received your feedback. Thank you!

WELCOME, NEW MEMBERS!



The WPCC Steering Committee extends a warm welcome to our newest members, Edgerton.Life Pancreatic Cancer Foundation (U.S.), Gut Cancer Foundation (New Zealand) and Laufteam Lila (Switzerland). We are happy to have you with us!

SOCIAL MEDIA POSTS YOU CAN USE



You can easily access and use our social media posts we have created for you. Please feel free to use what is provided to promote upcoming globally applicable days, and also note the tips for what to post each day of the week, even if there isn't a global day to recognize.


---

Upcoming Events
World Pancreatic Cancer Day
Nov. 21, 2019
Save the Date: WPCC Annual Meeting
Sept. 22-24, 2020
Los Angeles
Pancreatic Cancer Conferences in the U.S. and Beyond
Pancreatic Cancer Conferences in the U.K.
---
Stay Connected
---
World Pancreatic Cancer Coalition Steering Committee Members

Julie Fleshman, Chair
Pancreatic Cancer Action Network (USA)

Barbara Kenner
Kenner Family Research Fund (USA)

Cindy Gavin
Let's Win/Lustgarten (USA)

Daniel Goulburn
#PurpleOurWorld (Australia)

Diana Jupp
Pancreatic Cancer UK (UK)

Kathi Apostolidis
European Cancer Patient Coalition (Belgium)

Stefanie Condon-Oldreive
Craig's Cause Pancreatic Cancer Society (Canada)

Tomás Kruber
Onkomajak (Czech Republic)

Jenny Isaacson
Project Lead (USA)
World Pancreatic Cancer Day Committee Members

Jessica Abelsohn, Chair
#PurpleOurWorld (Australia)

Federica Valsecchi
Nadia Valsecchi Foundation (Italy)

Kate Elliott
Craig's Cause Pancreatic Cancer Society (Canada)

Kerry McKean Kelly
Kelly's Heroes (USA)

Louis Baldachino
Pancreatic Cancer Awareness Gibraltar (Gibraltar)

Louise Ellis
Pancreatic Cancer UK (UK)

Lu Constable
Pancreatic Cancer Action (UK)


---
Have questions for the WPCC?
Email Project Lead Jenny Isaacson at jisaacson@pancan.org.
1500 Rosecrans Ave., Suite 200, Manhattan Beach, CA 90266 – (877) 272-6226
Manage Your Subscription / Unsubscribe