News and updates for the WPCC community. View in browser.

June 2019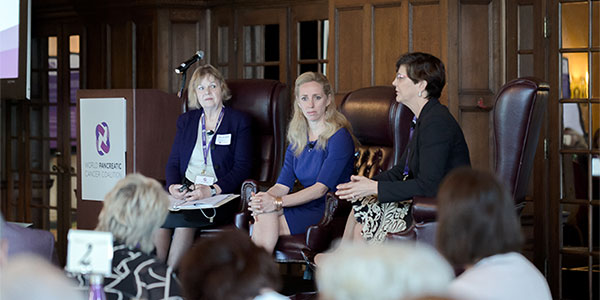 Barbara Kenner, PhD, (left) moderates a discussion about pancreatic cancer research at the WPCC Annual Meeting 2019.
MEMBER HIGHLIGHT: KENNER FAMILY RESEARCH FUND



Kenner Family Research Fund (KFRF) was established in 2013 in memory of Peter Kenner, who died just two months following his diagnosis of pancreatic neuroendocrine cancer. KFRF is committed to supporting the development of an early detection protocol for pancreatic cancer by building strong relationships and strategic alliances with research, government, industry and philanthropic stakeholders. Efforts are focused on outcomes that will positively impact the time of diagnosis, length of survival and quality of life.

READ MORE


ANNUAL MEETING EVALUATION HIGHLIGHTS – CINDY GAVIN, WPCC STEERING COMMITTEE



Thank you for responding to the online evaluation of the 2019 Annual Meeting. I think it's fair to say that this was our best meeting yet! Here are some highlights from the survey:
100 percent said the meeting helped them learn and exchange ideas
99 percent said that the meeting connected them with people who could help with their organization's work
90 percent said that they had already contacted – or were planning to contact – another WPCC member organization as a result of the meeting
The following comments sum up the feedback:

"At the end of the meeting, I was full of ideas, shared experiences, business cards, invitations to keep in touch and offers for assistance and help when and if needed."

"That was incredible. I didn't anticipate the participants to be so networking-oriented, enthusiastic, willing to share their know-how and knowledge...the whole experience was unbelievable! I just hope I can contribute back just a little of what I gained."

We also received many constructive comments that will help us with planning for next year's meeting. Thank you so much for sharing your feedback!

CAMPAIGN CREATIVE UPDATE – JESS ABELSOHN, CHAIR, WPCD COMMITTEE



I wanted to update you following the WPCC Meeting in Miami and your feedback on the creative concepts for WPCD 2019. The WPCD Committee has taken this feedback on board and Hill+Knowlton has worked hard to incorporate all views. Please see the summary of feedback and the final creative (version 3) that H+K has developed. You'll also note we are proposing to repurpose some social media materials from 2018 that cover risk factors. Thank you for your feedback – I hope you will agree it has resulted in stronger and more impactful creative! We will work on the 2019 campaign details over the next couple of months and start to share resources and timelines in late August.

REMINDER: SUBMIT APPLICATION FOR CELGENE IMPACTPANC 2019



Celgene's third ImpactPANC competition is open to WPCC member organizations to apply. The deadline is Friday, June 30, 2019, 11:59 p.m. Pacific (U.S.) Time. ImpactPANC is a global competition designed to recognize and honor patient organizations that demonstrate excellence in crafting innovative solutions for those patients and families living with pancreatic cancer. This year's topic for ImpactPANC is "Supporting Doctor Patient Discussions in Pancreatic Cancer." Please visit http://impactpanc.com/ to:
Learn more about the competition
Meet the external panel of judges
Review the criteria for participation
Submit your application
Five prizes will be awarded to five organizations in the equivalent of $20,000 USD each.

Upcoming Events
World Pancreatic Cancer Day
Nov. 21, 2019
Save the Date: WPCC Annual Meeting
Sept. 22-24, 2020
Los Angeles
Pancreatic Cancer Conferences in the U.S. and Beyond
Pancreatic Cancer Conferences in the U.K.
---
Stay Connected
---
World Pancreatic Cancer Coalition Steering Committee Members

Julie Fleshman, Chair
Pancreatic Cancer Action Network (USA)

Barbara Kenner
Kenner Family Research Fund (USA)

Cindy Gavin
Let's Win/Lustgarten (USA)

Daniel Goulburn
#PurpleOurWorld (Australia)

Diana Jupp
Pancreatic Cancer UK (UK)

Kathi Apostolidis
European Cancer Patient Coalition (Belgium)

Stefanie Condon-Oldreive
Craig's Cause Pancreatic Cancer Society (Canada)

Tomás Kruber
Onkomajak (Czech Republic)

Clara MacKay
Project Lead (Canada)
World Pancreatic Cancer Day Committee Members

Jessica Abelsohn, Chair
#PurpleOurWorld (Australia)

Federica Valsecchi
Nadia Valsecchi Foundation (Italy)

Kate Elliott
Craig's Cause Pancreatic Cancer Society (Canada)

Kerry McKean Kelly
Kelly's Heroes (USA)

Louis Baldachino
Pancreatic Cancer Awareness Gibraltar (Gibraltar)

Louise Ellis
Pancreatic Cancer UK (UK)

Lu Constable
Pancreatic Cancer Action (UK)


---
Have questions for the WPCC?
Email Project Lead Clara MacKay at clara@worldpancreaticcancercoalition.com.
1500 Rosecrans Ave., Suite 200, Manhattan Beach, CA 90266 – (877) 272-6226
Manage Your Subscription / Unsubscribe