News and updates for the WPCC community. View in browser.

May 2019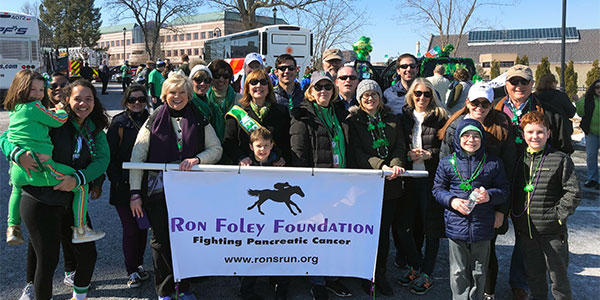 The Ron Foley Foundation in Connecticut (U.S.) funds pancreatic cancer research, raises disease awareness, and provides financial aid to patients and families.
MEMBER HIGHLIGHT: RON FOLEY FOUNDATION



The Ron Foley Foundation, based in the United States, was established by Barbara Foley in 2010 in memory of her husband Ron Foley, who died of pancreatic cancer in 2005. The mission of the Foundation is to alleviate human suffering caused by pancreatic cancer. The Foundation focuses its efforts on three areas: funding scientific research leading to the early diagnosis, improved treatment and ultimately a cure for pancreatic cancer; raising awareness of the disease among medical professionals and the public; and providing financial aid directly to pancreatic cancer patients and their families.

READ MORE


WPCC ANNUAL MEETING 2019 – THE BEST YET!



Our time together at the Annual Meeting was valuable and rewarding. Attending this year were 49 organizations from 21 countries, and once again, there was much collaboration, networking, sharing of best practices and enjoying time well-spent with one another. Here is the program, as well as all the presentations and a selection of photos. If you attended the meeting and have not completed the evaluation form, please take a few minutes and do it now. Your feedback will help us make next year's Annual Meeting even better!

READ ABOUT THE MEETING

SUBMIT APPLICATION FOR CELGENE IMPACTPANC 2019



Celgene is excited to launch the third ImpactPANC competition and hopes WPCC member organizations will consider participating this year. ImpactPANC is a global competition designed to recognize and honor patient organizations that demonstrate excellence in crafting innovative solutions for those patients and families living with pancreatic cancer. This year's topic for ImpactPANC is "Supporting Doctor Patient Discussions in Pancreatic Cancer." Please visit http://impactpanc.com/ to:
learn more about the competition
meet the external panel of judges
review the criteria for participation
submit your application
Five prizes will be awarded to five organizations in the equivalent of $20,000 USD each. Completed applications must be submitted by the deadline: Friday, June 30, 2019, 11:59 p.m. Pacific Standard Time.

AACR SPECIAL PANCREATIC CANCER CONFERENCE



The American Association for Cancer Research (AACR) Special Conference entitled "Pancreatic Cancer: Advances in Science and Clinical Care," is open for registration, and the AACR is offering free registration to up to 12 WPCC members. The conference is Sept. 6-9 in Boston, bringing together pancreatic cancer research and clinical experts from around the world. Complementary registration is on a first come, first served basis. If interested, please email Gail Drucker at gdrucker@pancan.org with the name, organization and email of the person who would like to attend at no charge. Do not try to register through the website.

MEMBER RESEARCH UPDATES



We invite all of you to share on our closed Facebook group links to your research program or other research materials that would be of interest to Coalition members (for example, blogs. publications, clinical trials information, etc.)


---

Upcoming Events
AACR Special Conference
"Pancreatic Cancer: Advances in Science and Clinical Care"
Sept 6-9, 2019
Boston
World Pancreatic Cancer Day
Nov. 21, 2019
Save the Date: WPCC Annual Meeting
Sept. 22-24, 2020
Los Angeles
Pancreatic Cancer Conferences in the U.S. and Beyond
Pancreatic Cancer Conferences in the U.K.
---
Stay Connected
---
World Pancreatic Cancer Coalition Steering Committee Members

Julie Fleshman, Chair
Pancreatic Cancer Action Network (USA)

Barbara Kenner
Kenner Family Research Fund (USA)

Cindy Gavin
Let's Win/Lustgarten (USA)

Daniel Goulburn
#PurpleOurWorld (Australia)

Diana Jupp
Pancreatic Cancer UK (UK)

Kathi Apostolidis
European Cancer Patient Coalition (Belgium)

Michelle Capobianco
Pancreatic Cancer Canada (Canada)

Stefanie Condon-Oldreive
Craig's Cause Pancreatic Cancer Society (Canada)

Tomás Kruber
Onkomajak (Czech Republic)

Clara MacKay
Project Lead (Canada)
World Pancreatic Cancer Day Committee Members

Jessica Abelsohn, Chair
#PurpleOurWorld (Australia)

Federica Valsecchi
Nadia Valsecchi Foundation (Italy)

Kate Elliott
Craig's Cause Pancreatic Cancer Society (Canada)

Kerry McKean Kelly
Kelly's Heroes (USA)

Louis Baldachino
Pancreatic Cancer Awareness Gibraltar (Gibraltar)

Louise Ellis
Pancreatic Cancer UK (UK)

Lu Constable
Pancreatic Cancer Action (UK)


---
Have questions for the WPCC?
Email Project Lead Clara MacKay at clara@worldpancreaticcancercoalition.com.
1500 Rosecrans Ave., Suite 200, Manhattan Beach, CA 90266 – (877) 272-6226
Manage Your Subscription / Unsubscribe