News and updates for the WPCC community. View in browser.

April 2019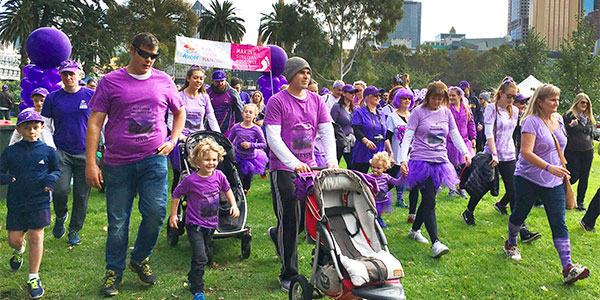 The Avner Pancreatic Cancer Foundation's "Put Your Foot Down" Melbourne walk in May draws a large crowd of supporters.
MEMBER HIGHLIGHT: AVNER PANCREATIC CANCER FOUNDATION



The Avner Pancreatic Cancer Foundation began as Avner's Fund after co-founder Avner Nahmani was diagnosed with the disease in 2007. He and his wife, Caroline, had the goal of raising $1 million for pancreatic cancer research, and although Avner passed away late in 2008, this goal was reached within two years. Fast forward to 2019, the foundation has raised more than $10 million and has been a driving force for pancreatic cancer awareness in Australia.

READ MORE


COUNTING DOWN TO THE ANNUAL MEETING



We can't wait to see you in sunny Florida in just a few short weeks. Get ready to see old friends, meet new ones, brainstorm, collaborate and feel motivated to get back home and put your learnings into practice! This year, you'll learn from leading pancreatic cancer experts and our Hill+Knowlton partners will be onsite to guide discussions about World Pancreatic Cancer Day. We'll see you there!

MEMBER RESEARCH UPDATES



We invite all of you to share on our closed Facebook group links to your research program or other research materials that would be of interest to Coalition members (for example, blogs. publications, clinical trials information, etc.)

SOCIAL MEDIA POSTS AND HASHTAG GUIDELINES



As a reminder, we are sharing assets on a regular basis to heighten awareness of the Coalition and promote "Demand Better" so that it becomes a year-round message. We've shared guidelines for social media posts that you can personalize and use as well as hashtag guidelines to review!

Upcoming Events
WPCC Annual Meeting
May 7-9, 2019
Coral Gables, Florida (Miami area)
Save the Date: World Pancreatic Cancer Day
Nov. 21, 2019
Pancreatic Cancer Conferences in the U.S. and Beyond
Pancreatic Cancer Conferences in the U.K.
---
Stay Connected
---
World Pancreatic Cancer Coalition Steering Committee Members

Julie Fleshman, Chair
Pancreatic Cancer Action Network (USA)

Barbara Kenner
Kenner Family Research Fund (USA)

Cindy Gavin
Let's Win/Lustgarten (USA)

Daniel Goulburn
#PurpleOurWorld (Australia)

Diana Jupp
Pancreatic Cancer UK (UK)

Kathi Apostolidis
European Cancer Patient Coalition (Belgium)

Michelle Capobianco
Pancreatic Cancer Canada (Canada)

Stefanie Condon-Oldreive
Craig's Cause Pancreatic Cancer Society (Canada)

Tomás Kruber
Onkomajak (Czech Republic)

Clara MacKay
Project Lead (Canada)
World Pancreatic Cancer Day Committee Members

Jessica Abelsohn, Chair
#PurpleOurWorld (Australia)

Federica Valsecchi
Nadia Valsecchi Foundation (Italy)

Kate Elliott
Craig's Cause Pancreatic Cancer Society (Canada)

Kerry McKean Kelly
Kelly's Heroes (USA)

Louis Baldachino
Pancreatic Cancer Awareness Gibraltar (Gibraltar)

Louise Ellis
Pancreatic Cancer UK (UK)

Lu Constable
Pancreatic Cancer Action (UK)


---
Have questions for the WPCC?
Email Project Lead Clara MacKay at clara@worldpancreaticcancercoalition.com.
1500 Rosecrans Ave., Suite 200, Manhattan Beach, CA 90266 – (877) 272-6226
Manage Your Subscription / Unsubscribe