News and updates for the WPCC community. View in browser.

March 2019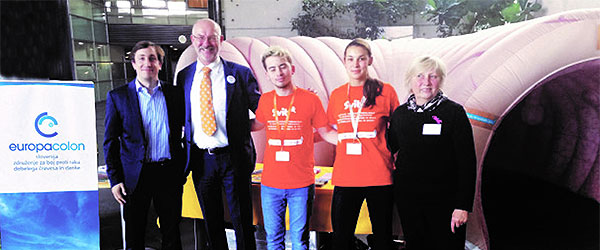 Members of the EuropaColon Slovenija board of directors
MEMBER HIGHLIGHT:
EUROPACOLON SLOVENIJA

EuropaColon Slovenija, founded in 2007, is part of an umbrella organization called Digestive Cancers Europe. The organization began with a focus on colorectal cancer patients, but today all digestive cancers are included, with a focus on pancreatic cancer. In Slovenia, pancreatic cancer has the lowest five-year relative survival rate at a mere 4 percent, and it has remained the same for the last 40 years. The organization's main goal is to raise awareness of the disease in the public as well as among healthcare professionals.

READ MORE


SEE YOU IN MIAMI!



We are delighted to report that registration for this year's WPCC Annual Meeting is the best yet with 48 member organizations from 20 countries. We are really looking forward to seeing you all!

WPCD CAMPAIGN IS AN AWARD FINALIST



We have exciting news to share! The WPCD "Demand Better" campaign created by Hill+Knowlton Strategies is a finalist in The Drum Marketing Awards USA in two categories – Cause-Related and Global Integrated Strategy. The Drum Marketing Awards recognize the best marketing campaigns across all industries and sectors that inspire and demonstrate best practices. Winners will be announced during the awards ceremony on April 11 in New York City. Stay tuned and think positive!

WPCC'S GLOBAL IMPACT



Have you seen the new Global Impact section that has been added to the WPCC website? Please feel free to use this in your communications or outreach as needed. It is a great way to show the power of the Coalition's collective efforts!

SOCIAL MEDIA COPY YOU CAN USE



Looking for social media copy you can copy and paste easily? We have it here for you. Please feel free to use what is provided to promote upcoming globally applicable days, and also note the tips for what to post each day of the week, even if there isn't a global day to recognize.
---

Upcoming Events
Educational Webinar: Early Detection of Pancreatic Cancer
March 27, 2019 | 2 p.m. EST
Register
WPCC Annual Meeting
May 7-9, 2019
Coral Gables, Florida (Miami area)
Save the Date: World Pancreatic Cancer Day
Nov. 21, 2019
Pancreatic Cancer Conferences in the U.S. and Beyond
Pancreatic Cancer Conferences in the U.K.
---
Stay Connected
---
World Pancreatic Cancer Coalition Steering Committee Members

Julie Fleshman, Chair
Pancreatic Cancer Action Network (USA)

Barbara Kenner
Kenner Family Research Fund (USA)

Cindy Gavin
Let's Win/Lustgarten (USA)

Daniel Goulburn
#PurpleOurWorld (Australia)

Diana Jupp
Pancreatic Cancer UK (UK)

Kathi Apostolidis
European Cancer Patient Coalition (Belgium)

Michelle Capobianco
Pancreatic Cancer Canada (Canada)

Stefanie Condon-Oldreive
Craig's Cause Pancreatic Cancer Society (Canada)

Tomás Kruber
Onkomajak (Czech Republic)

Clara MacKay
Project Lead (Canada)
World Pancreatic Cancer Day Committee Members

Jessica Abelsohn, Chair
#PurpleOurWorld (Australia)

Federica Valsecchi
Nadia Valsecchi Foundation (Italy)

Kate Elliott
Craig's Cause Pancreatic Cancer Society (Canada)

Kerry McKean Kelly
Kelly's Heroes (USA)

Louis Baldachino
Pancreatic Cancer Awareness Gibraltar (Gibraltar)

Louise Ellis
Pancreatic Cancer UK (UK)

Lu Constable
Pancreatic Cancer Action (UK)


---
Have questions for the WPCC?
Email Project Lead Clara MacKay at clara@worldpancreaticcancercoalition.com.