News and updates for the WPCC community. View in browser.

July 2018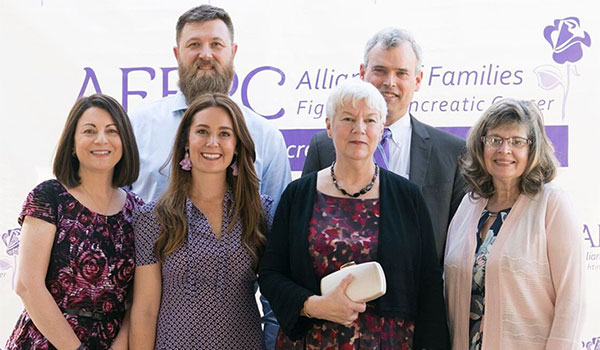 From left, back: AFFPC Board member Ric Fera with Dr. A. James Moser, co-director of Pancreas Liver Institute and Pancreatic Cancer Research Program at Beth Israel Deaconess Medical Center and associate professor of surgery, Harvard Medical Center. From left, front: Board members Theresa Dukovich, Kendra Haywood, Brigitte Regnier and Debbie Barnes.
Not pictured: Board members Jessica Fera and Dr. Ken Grey.
---
Save the Date for WPCC 2019 Annual Meeting!
May 7-9, 2019
Coral Gables, Florida
---




MEMBER HIGHLIGHT: THE ALLIANCE OF FAMILIES FIGHTING PANCREATIC CANCER



The Alliance of Families Fighting Pancreatic Cancer (AFFPC), based in the United States, is an alliance of families, patients, caregivers, medical researchers, healthcare institutions and organizations united to transform pancreatic cancer treatment by empowering patients with personalized options for better survival and quality of life. The organization was founded in 2012 based on the realization that the families of those affected by pancreatic cancer are the ones who will lead the fight. They have faced pancreatic cancer and joined together to continue the fight.

READ MORE



JULY 13 DEADLINE APPROACHING FOR CELGENE ImpactPANC COMPETITION



Celgene invites members of the WPCC to submit applications for consideration in its second ImpactPANC – a global competition designed to recognize and honor patient organizations that demonstrate excellence in crafting innovative solutions for patients and families living with pancreatic cancer. The topic for this year's competition is, "Supporting the Needs of Caregivers in Pancreatic Cancer." Five prizes of the equivalent of $20,000 USD each will be awarded to five organizations. Learn more and submit your application at http://impactpanc.com by Friday, July 13, 2018 at 11:59 p.m. Pacific Time.

NEW WPCD 2018 PLANNING GUIDE IS HERE



The World Pancreatic Cancer Day 2018 planning guide is now on the WPCD website for you to download and start using. This month-by-month guide details what materials will be produced and when you can expect them. Be sure to take a look!

WELCOME, NEW MEMBERS!



A huge WPCC welcome to our newest members Pancreatic Cancer Matters (Australia), My Everest (Italy) and EuropaColon Polska (Poland). We are delighted to be working with you!




SOCIAL MEDIA POSTS YOU CAN USE



As a reminder, we are sharing assets on a regular basis to heighten awareness of the Coalition and promote "Demand Better" so that it becomes a year-round message. And each month we're sharing social media posts that you can personalize and use.





Upcoming EventS



Save the Date for Annual Meeting 2019
May 7-9, 2019
WPCC Annual Meeting | Coral Gables, Florida (Miami area)

AACR Special Conference
"Pancreatic Cancer: Advances in Science and Clinical Care"
Sept. 21-24, 2018
Boston

Save the Date for World Pancreatic Cancer Day 2018
Nov. 15, 2018

Pancreatic Cancer Conferences in the U.S. and Beyond

Pancreatic Cancer Conferences in the U.K.


---
World Pancreatic Cancer Coalition Steering Committee Members

Julie Fleshman, Chair
Pancreatic Cancer Action Network (USA)

Stefanie Condon-Oldreive
Craig's Cause Pancreatic Cancer Society (Canada)

Barbara Kenner
Kenner Family Research Fund (USA)

Cindy Gavin
Let's Win/Lustgarten (USA)

Carl Hamilton
PALEMA (Sweden)

Ali Stunt
Pancreatic Cancer Action (UK)

Michelle Capobianco
Pancreatic Cancer Canada (Canada)
World Pancreatic Cancer Day Committee Members

Ali Stunt, Chair
Pancreatic Cancer Action (UK)

Kate Elliott
Craig's Cause Pancreatic Cancer Society (Canada)

Anna Rek
European Cancer Patient Coalition (Belgium)

Louise Ellis
Pancreatic Cancer UK (UK)

Jessica Abelsohn
#Purpleourworld (Australia)

Scott Saunders
The JCM Foundation (USA)


---
THANK YOU TO OUR SPONSORS
Have questions for the WPCC?
Email Project Lead Clara MacKay at clara@worldpancreaticcancercoalition.com.
1500 Rosecrans Ave., Suite 200, Manhattan Beach, CA 90266 – (877) 272-6226
Manage Your Subscription / Unsubscribe