News and updates for the WPCC community. View in browser.

June 2018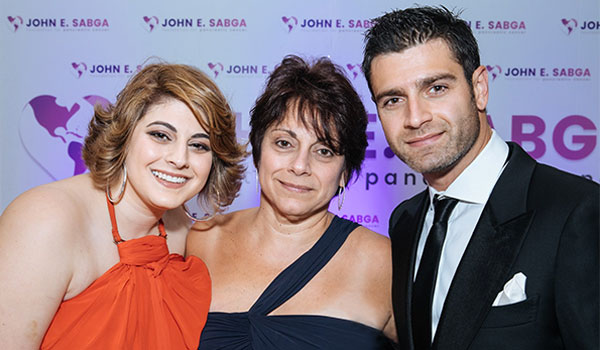 Natalie Sabga with her children, Amanda and Matthew, at The HOPE Gala fundraiser
in February 2018 for the John E. Sabga Foundation.
---
Save the Date for WPCC 2019 Annual Meeting!
May 7-9, 2019
Coral Gables, Florida
---




MEMBER HIGHLIGHT: THE JOHN E. SABGA FOUNDATION



The John E. Sabga (JES) Foundation for Pancreatic Cancer was founded in November 2017 in Trinidad and Tobago by Natalie Sabga, through deep sadness at the loss of her husband after his short battle with pancreatic cancer. It was through their relentless journey in search of a cure that the Sabgas realized the importance of research and the need for clinical trials. Through its public awareness campaign, the JES Foundation is working to raise awareness of the signs and symptoms of pancreatic cancer so earlier detection can be achieved.

READ MORE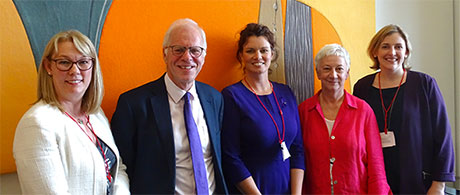 From left, Ali Stunt, Pancreatic Cancer Action; Nic Dakin, MP, Chair APPG on Pancreatic Cancer; Diana Jupp, Pancreatic Cancer UK; Maggie Blanks, Pancreatic Cancer Research Fund; and Fiona Brown, Pancreatic Cancer Scotland.



WPCC Groups Unite To Visit UK Parliament



WPCC UK pancreatic cancer member organizations got together this week at the House of Commons with the All Party Parliamentary Group on Pancreatic Cancer to set this year's priorities for parliamentary activity. A great example of working together to Demand Better!

JOIN WPCC STEERING COMMITTEE: APPLICATIONS DUE JULY 1



We have two vacancies to fill. This is open to all members of the Coalition, but we are especially interested in ensuring that the Steering Committee has strong representation from different countries. If you are interested, please read the role description. If you have any questions or would like to discuss the role, please contact Clara MacKay at clara@worldpancreaticcancercoalition.com. Completed applications should be emailed to info@worldpancreaticcancercoalition.com by Sunday, July 1.


WPCD 2017 WINS COVETED AWARD



In case you missed the good news, the WPCD 2017 "Demand Better" campaign, the Coalition and Hill+Knowlton Strategies were recognized at the recent Silver Anvil Awards ceremony in New York City. We received an Award of Excellence in the Observances category, and we won the Silver Anvil in Global Communications! Thank you all for your continued tireless efforts to Demand Better. For Patients. For Survival.




SOCIAL MEDIA POSTS YOU CAN USE



As a reminder, we are sharing assets on a regular basis to heighten awareness of the Coalition and promote "Demand Better" so that it becomes a year-round message. And each month we're sharing social media posts that you can personalize and use.





Upcoming EventS



WPCC Annual Meeting 2019!
May 7-9, 2019
WPCC Annual Meeting | Coral Gables, Florida (Miami area)

AACR Special Conference
"Pancreatic Cancer: Advances in Science and Clinical Care"
Sept. 21-24, 2018
Boston

Save the Date for World Pancreatic Cancer Day 2018
Nov. 15, 2018

Pancreatic Cancer Conferences in the U.S. and Beyond

Pancreatic Cancer Conferences in the U.K.


---
World Pancreatic Cancer Coalition Steering Committee Members

Julie Fleshman, Chair
Pancreatic Cancer Action Network (USA)

Stefanie Condon-Oldreive
Craig's Cause Pancreatic Cancer Society (Canada)

Barbara Kenner
Kenner Family Research Fund (USA)

Cindy Gavin
Let's Win/Lustgarten (USA)

Carl Hamilton
PALEMA (Sweden)

Ali Stunt
Pancreatic Cancer Action (UK)

Michelle Capobianco
Pancreatic Cancer Canada (Canada)
World Pancreatic Cancer Day Committee Members

Ali Stunt, Chair
Pancreatic Cancer Action (UK)

Kate Elliott
Craig's Cause Pancreatic Cancer Society (Canada)

Anna Rek
European Cancer Patient Coalition (Belgium)

Louise Ellis
Pancreatic Cancer UK (UK)

Jessica Abelsohn
#Purpleourworld (Australia)

Scott Saunders
The JCM Foundation (USA)


---
THANK YOU TO OUR SPONSORS
Have questions for the WPCC?
Email Project Lead Clara MacKay at clara@worldpancreaticcancercoalition.com.
1500 Rosecrans Ave., Suite 200, Manhattan Beach, CA 90266 – (877) 272-6226
Manage Your Subscription / Unsubscribe