News and updates for the WPCC community. View in browser.

April 2018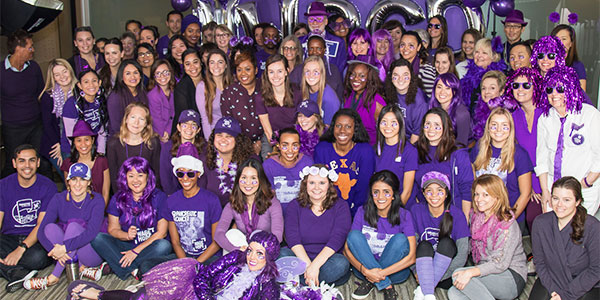 Pancreatic Cancer Action Network staff on World Pancreatic Cancer Day 2017
MEMBER HIGHLIGHT: Pancreatic Cancer Action Network



Founded in 1999, the Pancreatic Cancer Action Network (PanCAN) is dedicated to fighting the world's toughest cancer. In our urgent mission to save lives, we attack pancreatic cancer on all fronts: research, clinical initiatives, patient services and advocacy. Our effort is amplified by a nationwide network of grassroots support. We are determined to improve patient outcomes today and to double survival by 2020.

READ MORE






Annual Meeting Just Weeks Away!



Wondering what's coming up in Coral Gables in just a few weeks? Get ready to collaborate, share and be inspired! There is a full schedule of speakers and workshops, and our partners from Hill+Knowlton Strategies will be there to help us explore opportunities for greater awareness and action this year. See you in three weeks!

Please Answer Very Short Survey on Fundraising



In anticipation of the "Best Practices in Corporate Fundraising" workshop being run by Michelle Capobianco (Pancreatic Cancer Canada) and Dino Verrelli (Project Purple) at our upcoming Annual Meeting, we have a short survey to be filled out. It would be greatly appreciated if everyone attending the Annual Meeting could complete the survey by April 30.

COMPLETE THE SURVEY





SOCIAL MEDIA POSTS AND HASHTAG GUIDELINES



As a reminder, we are sharing assets on a regular basis to heighten awareness of the Coalition and promote "Demand Better" so that it becomes a year-round message. And each month we're sharing social media posts that you can personalize and use. Also, we have created new hashtag guidelines for you. Did you know #WPCD should always be used with any post in relation to World Pancreatic Cancer Day, and it's good to use #WorldPancreaticCancerDay as well in order to put it in context? Check out the guidelines.





Upcoming EventS



WPCC Annual Meeting 2018
May 8-10, 2018
Coral Gables, Florida (Miami area)

Save the Date for World Pancreatic Cancer Day 2018
Nov. 15, 2018

Pancreatic Cancer Conferences in the U.S. and Beyond

Pancreatic Cancer Conferences in the U.K.


---
World Pancreatic Cancer Coalition Steering Committee Members

Julie Fleshman, Chair
Pancreatic Cancer Action Network (USA)

Catherine Holliday
Centre for Community-Driven Research (Australia)

Stefanie Condon-Oldreive
Craig's Cause Pancreatic Cancer Society (Canada)

Barbara Kenner
Kenner Family Research Fund (USA)

Cindy Gavin
Let's Win/Lustgarten (USA)

Carl Hamilton
PALEMA (Sweden)

Ali Stunt
Pancreatic Cancer Action (UK)

Michelle Capobianco
Pancreatic Cancer Canada (Canada)
World Pancreatic Cancer Day Committee Members

Ali Stunt, Chair
Pancreatic Cancer Action (UK)

Kate Elliott
Craig's Cause Pancreatic Cancer Society (Canada)

Anna Rek
European Cancer Patient Coalition (Belgium)

Louise Ellis
Pancreatic Cancer UK (UK)

Jessica Abelsohn
#Purpleourworld (Australia)

Scott Saunders
The JCM Foundation (USA)


---
THANK YOU TO OUR SPONSORS
Have questions for the WPCC?
Email Project Lead Clara MacKay at clara@worldpancreaticcancercoalition.com.