News and updates for the WPCC community. View in browser.

March 2018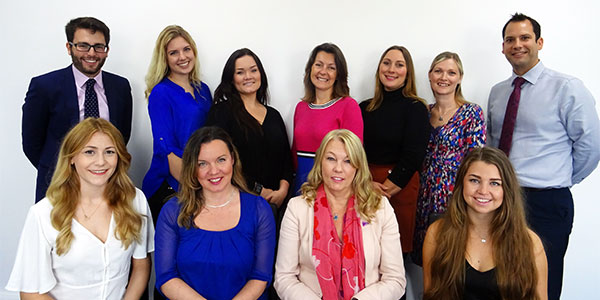 The team at Pancreatic Cancer Action with founder Ali Stunt seated, second from right.
MEMBER HIGHLIGHT: Pancreatic Cancer Action



Pancreatic Cancer Action is a UK charity whose aim is to save lives by focusing on improving early diagnosis of pancreatic cancer. The charity was set up by a pancreatic cancer survivor, Ali Stunt, three years after her diagnosis in 2007. Having been involved in setting up the very first UK Pancreatic Cancer Awareness Week in 2009, she decided it was time to step up the levels of awareness for pancreatic cancer and founded Pancreatic Cancer Action in 2010. The charity has grown exponentially in seven years and now employs 14 staff members.

READ MORE






World Pancreatic Cancer Day Committee Appointments



We are delighted to confirm recent appointments to the WPCD Committee! Ali Stunt has generously agreed to continue as Chair of the Committee for another year. Scott Saunders from The JCM Foundation for Pancreatic Cancer Research has also renewed his membership for a second term. Two new members, Louise Ellis and Anna Rek, have joined the Committee. Please keep reading to learn more about Louise and Anna, and find a complete list of the WPCD Committee members here.

Louise Ellis
Louise's background is in all aspects of communications, including media relations, digital and print communications and brand and campaign management. She has worked in communications for 17 years with 11 spent working in the voluntary sector. Her current role is Senior Communications Manager at Pancreatic Cancer UK.

Anna Rek
Anna Rek is Community & Communications Manager with the European Cancer Patient Coalition. Anna has substantial experience in supporting patient organizations throughout Europe. She coordinates ECPC's newsletter, annual report, website, media relations, and social media channels. Anna is a positive and committed Polish national who speaks fluent Polish and English and has a good knowledge of French.

SOCIAL MEDIA POSTS YOU CAN USE



As a reminder, we are sharing assets on a regular basis to heighten awareness of the Coalition and promote "Demand Better" so that it becomes a year-round message. And each month we're sharing social media posts that you can personalize and use, or simply mark your calendars so you know to go to WPCC's social channels to like, share and comment on our posts. Check out the upcoming social media posts you can use in April.

GET THE POSTS



---

Upcoming EventS
WPCC Annual Meeting 2018
May 8-10, 2018
Coral Gables, Florida (Miami area)
Save the Date for World Pancreatic Cancer Day 2018
Nov. 15, 2018
Pancreatic Cancer Conferences in the U.S. and Beyond
Pancreatic Cancer Conferences in the U.K.
---
World Pancreatic Cancer Coalition Steering Committee Members

Julie Fleshman, Chair
Pancreatic Cancer Action Network (USA)

Catherine Holliday
Centre for Community-Driven Research (Australia)

Stefanie Condon-Oldreive
Craig's Cause Pancreatic Cancer Society (Canada)

Barbara Kenner
Kenner Family Research Fund (USA)

Cindy Gavin
Let's Win/Lustgarten (USA)

Carl Hamilton
PALEMA (Sweden)

Ali Stunt
Pancreatic Cancer Action (UK)

Michelle Capobianco
Pancreatic Cancer Canada (Canada)
World Pancreatic Cancer Day Committee Members

Ali Stunt, Chair
Pancreatic Cancer Action (UK)

Kate Elliott
Craig's Cause Pancreatic Cancer Society (Canada)

Anna Rek
European Cancer Patient Coalition (Belgium)

Louise Ellis
Pancreatic Cancer UK (UK)

Jessica Abelsohn
#Purpleourworld (Australia)

Scott Saunders
The JCM Foundation (USA)


---
THANK YOU TO OUR LEADING SPONSORS
Have questions for the WPCC?
Email Project Lead Clara MacKay at clara@worldpancreaticcancercoalition.com.
1500 Rosecrans Ave., Suite 200, Manhattan Beach, CA 90266 – (877) 272-6226
Manage Your Subscription / Unsubscribe