News and updates for the WPCC community. View in browser.

February 2018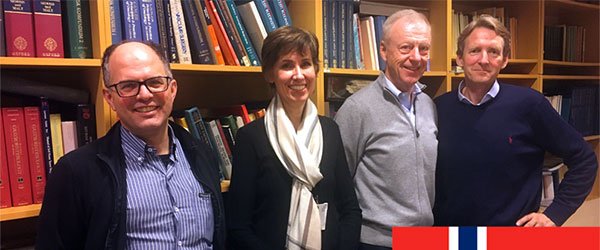 Members of the Board of Directors of Pancreaskreft Nettverk Norge
Please register and book travel for Annual Meeting by Friday, Feb. 23!



MEMBER HIGHLIGHT:
Pancreaskreft Nettverk Norge

Pancreaskreft Nettverk Norge (Norway) was established just over a year ago, following an initiative to arrange a seminar on World Pancreatic Cancer Day (WPCD) 2016. The network was a joint initiative by healthcare personnel, patients and their relatives following informal discussions about why so little is done to support pancreatic cancer patients in Norway. Today, progress is being made in all its focus areas.

READ MORE




DEADLINE APPROACHING: REGISTER FOR FLORIDA BY FRIDAY, FEB. 23!

An action-packed few days have been lined up for the 2018 WPCC Annual Meeting in Coral Gables, Florida. You don't want to miss this event! Please register, view the agenda and other meeting information, and learn how to book your travel if you haven't yet done so. You must register AND book travel by this Friday, Feb. 23.

LEARN MORE


SOCIAL MEDIA POSTS YOU CAN USE



We were delighted that WPCD Committee Chair Ali Stunt shared social media assets for World Cancer Day earlier this month. We will share assets on a regular basis to heighten awareness of the Coalition and promote "Demand Better" so that it becomes a year-round message. As a result, beginning with this newsletter, we're providing social media posts that you can personalize and use, or simply mark your calendars so you know to go to WPCC's social channels to like, share and comment on our posts.

GET THE POSTS



---

Upcoming EventS
WPCC Annual Meeting 2018
May 8-10, 2018
Coral Gables, Florida (Miami area)
Save the Date for World Pancreatic Cancer Day 2018
Nov. 15, 2018
Pancreatic Cancer Conferences in the U.S. and Beyond
Pancreatic Cancer Conferences in the U.K.
---
World Pancreatic Cancer Coalition Steering Committee Members

Julie Fleshman, Chair
Pancreatic Cancer Action Network (USA)

Barbara Kenner
Kenner Family Research Fund (USA)

Cindy Gavin
Let's Win/Lustgarten (USA)

Ali Stunt
Pancreatic Cancer Action (UK)

Stefanie Condon-Oldreive
Craig's Cause Pancreatic Cancer Society (Canada)

Michelle Capobianco
Pancreatic Cancer Canada (Canada)

Carl Hamilton
PALEMA (Sweden)

Catherine Holliday
Centre for Community-Driven Research (Australia)
World Pancreatic Cancer Day Committee Members

Ali Stunt, Chair
Pancreatic Cancer Action (UK)

Kate Elliott
Craig's Cause Pancreatic Cancer Society (Canada)

Charlotte Zamboni
Pancreatic Cancer UK (UK)

Jessica Abelsohn
#Purpleourworld (Australia)

Scott Saunders
The JCM Foundation (USA)

Dora Constantinides
PASYKAF (Cyprus)
---
THANK YOU TO OUR LEADING SPONSORS
Have questions for the WPCC?
Email Project Lead Clara MacKay at clara@worldpancreaticcancercoalition.com.
1500 Rosecrans Ave., Suite 200, Manhattan Beach, CA 90266 – (877) 272-6226
Manage Your Subscription / Unsubscribe