News and updates for the WPCC community. View in browser.

January 2018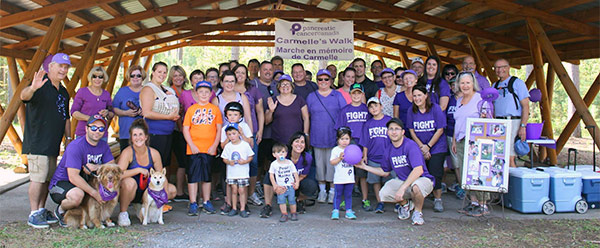 Pancreatic Cancer Canada supporters gather at a recent walk.
Registration for our annual meeting in Florida is now open!



MEMBER HIGHLIGHT:
PANCREATIC CANCER CANADA

Pancreatic Cancer Canada (PCCF) is focused on fighting pancreatic cancer through research, awareness, education and advocacy. Its goals are to improve overall patient survival rates and support those who are affected by this deadly disease. Since its inception in 2006, PCCF has invested nearly $4 million in research at cancer centers across Canada – funding studies that look at early detection, treatment and improved patient outcomes.

LEARN MORE






WPCC ACHIEVEMENTS 2017



Happy New Year, everyone! And what an incredible 2017 for the Coalition, thanks to your efforts! Here are some highlights of the tremendous successes:
Nine new members joined the Coalition: USA (3), Kenya, Republic of Ireland, Czech Republic, Switzerland, Norway, Trinidad and Tobago.
40 organizations representing 20 countries attended the Annual Meeting in Montreal in May.
With regard to WPCD, nearly 245 stories were published on Nov. 16 for WPCD, and more than 800 stories in 30 countries were published about WPCD. Notable mentions were on Good Morning America, CBS News, Global News, the BBC and Daily Mail. Content reached an audience of more than 332 million. More than 150 landmarks went purple on WPCD, including the Sydney Opera House, Niagara Falls and Trafalgar Square. Across the board, there were increases in social media metrics ranging from 38 percent (impressions) to 18 percent (hashtag use).
There was also increased Coalition member participation for WPCD, and increased media and social media engagement, despite fewer celebrities.
A tagline was developed for use on WPCD and year-round: Demand Better. For Patients. For Survival.
WPCD 2017 saw a 435 percent increase in earned media impressions (745M in 2017 compared to 139M in 2016).
Worldwide Google searches of pancreatic cancer increased by 17 percent on WPCD 2017 compared to WPCD 2016, with a nearly 50 percent increase in the UK alone.
Hill+Knowlton was selected as our new agency of record.
The Coalition website saw a refresh with member activity added and a searchable database by activity, among other updates.
Hosted a fundraising webinar and a #PancChat as part of Capacity Building.
Profiled 10 member organizations in WPCC newsletters.
Thank you again for your hard work and accomplishments! Here's to a terrific 2018 as we continue to Demand Better. For Patients. For Survival.

WPCC ANNUAL MEETING – May 8-10, 2018 – REGISTER TODAY!

We are looking forward to seeing you at the 2018 WPCC Annual Meeting in Coral Gables, Florida. Please register, view the agenda and other meeting information, and learn how to book your travel!


---

Upcoming EventS
WPCC Annual Meeting 2018
May 8-10, 2018
Coral Gables, Florida (Miami area)
Save the Date for World Pancreatic Cancer Day 2018
Nov. 15, 2018
Pancreatic Cancer Conferences in the U.S. and Beyond
Pancreatic Cancer Conferences in the U.K.
---
World Pancreatic Cancer Coalition Steering Committee Members

Julie Fleshman, Chair
Pancreatic Cancer Action Network (USA)

Barbara Kenner
Kenner Family Research Fund (USA)

Cindy Gavin
Let's Win/Lustgarten (USA)

Ali Stunt
Pancreatic Cancer Action (UK)

Stefanie Condon-Oldreive
Craig's Cause Pancreatic Cancer Society (Canada)

Michelle Capobianco
Pancreatic Cancer Canada (Canada)

Carl Hamilton
PALEMA (Sweden)

Catherine Holliday
Centre for Community-Driven Research (Australia)
World Pancreatic Cancer Day Committee Members

Ali Stunt, Chair
Pancreatic Cancer Action (UK)

Kate Elliott
Craig's Cause Pancreatic Cancer Society (Canada)

Charlotte Zamboni
Pancreatic Cancer UK (UK)

Jessica Abelsohn
#Purpleourworld (Australia)

Scott Saunders
The JCM Foundation (USA)

Dora Constantinides
PASYKAF (Cyprus)
Have questions for the WPCC?
Email Project Lead Clara MacKay at clara@worldpancreaticcancercoalition.com.
1500 Rosecrans Ave., Suite 200, Manhattan Beach, CA 90266 – (877) 272-6226
Manage Your Subscription / Unsubscribe